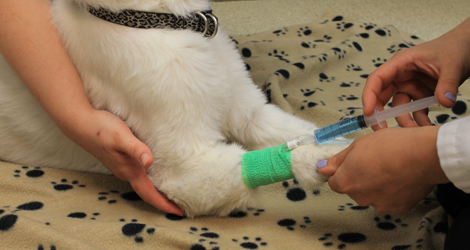 We know how distressing it is to watch your loving pet in the death bed. If your pet is excessively terminal ill and there is no hope left, just let it die with dignity. The decision of administering euthanasia to your beloved pet may be the most difficult decision in one's entire life. Whatever you decide, make sure it is the best decision for your pet who is going through tremendous pain and suffering.
If you are considering euthanasia, discuss your pet's condition with our experienced veterinarians at Bloor-Kipling Animal Clinic. There are many basic examinations we conduct and treatments we provide that can improve the chances of getting your pet back to its lost health. In case, the illness has crossed the stags of getting well, pet euthanasia is the last choice left.
Ease Your Pet's Sufferings With Euthanasia
Ours is a compassionate pet euthanasia clinic in Etobicoke that well understands your sorrow and heartache that comes from making this cruel and crucial decision of making your four legged rest at peace. As pet owners ourselves, we provide you with a compassionate and loving way to say goodbye to your pet either at home or at our clinic.
Respectful & Comforting Pet Cremation
If you are visiting this site due to the recent loss of your beloved pet, please accept our heartfelt condolences. We know how much you loved your furred friend and the heartache you are going through. When the times of their parting has arrived and they are gone, please give them the right memorial and pet cremation they deserved.
At Bloor-Kipling Animal Clinic, we provide gentle transfer of your tiny love from your home or vet's clinic to the cremation place. With permanent pet memorial and several memorial urns, we'll handle your pet's remains.