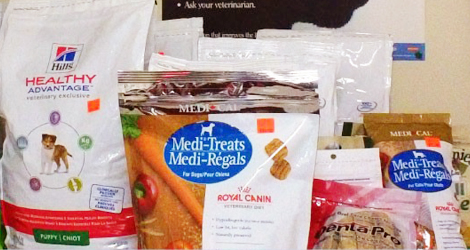 Are you looking for quality pet food and supplies in Etobicoke? If yes, your search ends at Bloor-Kipling Animal Clinic. Ours is a reputed veterinary hospital offering a complete line of pet treatments and products at cost-effective prices. Right from the branded dog and cat foods to prescription medication, we provide everything to ensure a quality lifestyle for your four legged companions.
With our in-clinic vet pharmacy in Etobicoke, we provide veterinary supplies and products that are medically recommended by a veterinarian. We aim to offer the same range of products you would find online that too at consistently low prices.
All Flea Products & Medication Available
Is your furry pet suffering from fleas problem? We better understand the discomfort he might be going through. To provide a quick relief, we are equipped with the popular flea treatments and products ranging right from the Frontline Spot-On to deworming medication such as Drontal tablets. We offer:
Prescription Medication
Medical Foods
Puppy Foods
Adult Foods
Cat & Kitten Food
Nutrition Tonics
Deworming Tablets
Flea Products
Topical Sprays
& Much More
If you are looking for a hard to find prescription medicine or medical food, don't worry, we have them all. Buying prescription items from Bloor-Kipling Animal Clinic is as easy as buying anything else. Just show us the receipt recommended by the vet and your order is all ready.
What Makes Us The Right Choice?
As a caring and qualified veterinary clinic, wellness of your loved companion is our foremost priority. We have a team of veterinarians who can diagnose and treat pets for any illnesses and infections. We are available 6 days a week to provide on spot medical food and medication to your pooch.
With our fully equipped clinic, we are proudly making pet treatments and supplies all accessible and affordable. Our topical sprays and fleas products in Etobicoke are sure to kill the nuisance flies that have infested your dog.