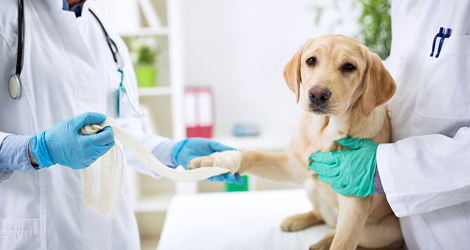 At Bloor-Kipling Animal Clinic, we suggest every pet owner in Etobicoke to have their pets a physical examination to maintain optimal health. Physical exams can help prevent serious health issues in the early stage. It can reduce the suffering of your pet from diseases/illness. Our veterinarians will maintain the yearly health chart of your pet to catch any potential signs of serious illness. For a healthy and growing pet, it is advisable to schedule periodic general check-up of your pets.
Apart from pet physical examination, proper vaccination is also very essential. Vaccines are meant to improve the immune system of your pet, making him strong to fight against the diseases. The main concern of our veterinarians is to maintain the optimal health condition of your furry friend.
Annual Examination:
Our veterinarians will determine the health condition of your pet by examining all the essential body parts. We will also check any past medical history you may have. All this information help us improve the quality of your pet's life.
As part of the annual exam, we:
Check for significant gains or losses in weight
Check legs, joints and spine of the pet
Examine the hair and fur
Check the abdomen
Check the pulse, heartbeat and lung sounds
Examine the eyes for cataracts, glaucoma or inflammation
Check the ears for any signs of parasites
Evaluate nasal passages to find any signs of respiratory disease
Check teeth and mouth for periodontal disease
Examine lymph nodes to check for tumors.
The Importance of Vaccines:
For proper health and wellness, vaccination is utmost important. They help fight against various dangerous and infectious diseases. Vaccines make the immune system strong ensuring healthy and active life.
Vaccination for Dogs
Annual Vaccines for adult dogs include :
Rabies
Bordetella
DA2PP

Distemper, Para Influenza, Hepatitis & Parvovirus
Vaccination for Cats
Annual Vaccines for adult cats include:
Rabies
Feline Leukemia.
FVRCP

Feline Rhinotracheitis, calici-panleukopenia, chlamydia, psittaci
At Bloor-Kipling Animal Clinic, our veterinarians in Etobicoke will take care of your pet's overall health care needs.