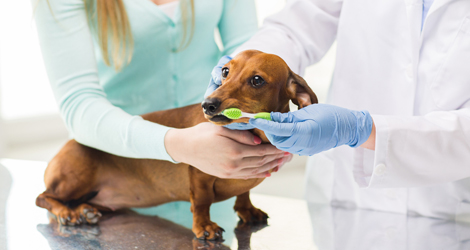 Is your pet having a bad breath or inflamed gums? If yes, Bloor-Kipling Animal Clinic is here to provide effective pet dental cleaning services. We have a team of dental veterinarians in Etobicoke who are qualified to treat the oral health issues in your dogs, cats and other pets.
From regular dental exams to tooth extraction, we make sure your pet enjoys a good oral health without any plaque or weak tooth. Ours is a local animal hospital that is equipped with the latest oral surgical equipment and tools to ensure safe dental procedures for your four legged in a hygienic environment. Our preventative dental cleaning ensures long-term health and prevents the risk of falling victim of diseases that spreads through the mouth.
Routine Pet Dental Examination & Care
When you visit Bloor-Kipling Animal Clinic for pet dental examination in Etobicoke, we'll start with a physical test and conduct basic oral exams for all pet breeds. After the examination report is out, we'll be able to identify the oral problem your four legged is facing, right from missing teeth to oral swelling. We examine pets for:
Deciduous teeth
Missing teeth
Oral swellings
Periodontal disease
Formation of plaque
Tartar & oral tumors
Oral infection
Bad breath
Weak teeth
Discolored teeth
Gum inflammation
Rabies vaccination
We Care For Your Pet's Teeth & Oral Health
When it comes to efficient pet dental cleaning in Etobicoke, you can put a trust on our veterinarians. One of the common oral disease dogs and cats usually suffer from is a periodontal disease. We can treat almost every dental health issues your furred companion is struggling with, including missing/broken teeth, cavities and orthodontic problems. In order to keep your pet's teeth healthy, you should:
Schedule a dental exam for your pooch every six months
Schedule routine dental cleanings as recommended by a vet.
Brush or floss your pet's teeth daily or twice a week.
Serve healthy pet food to promote good overall health.